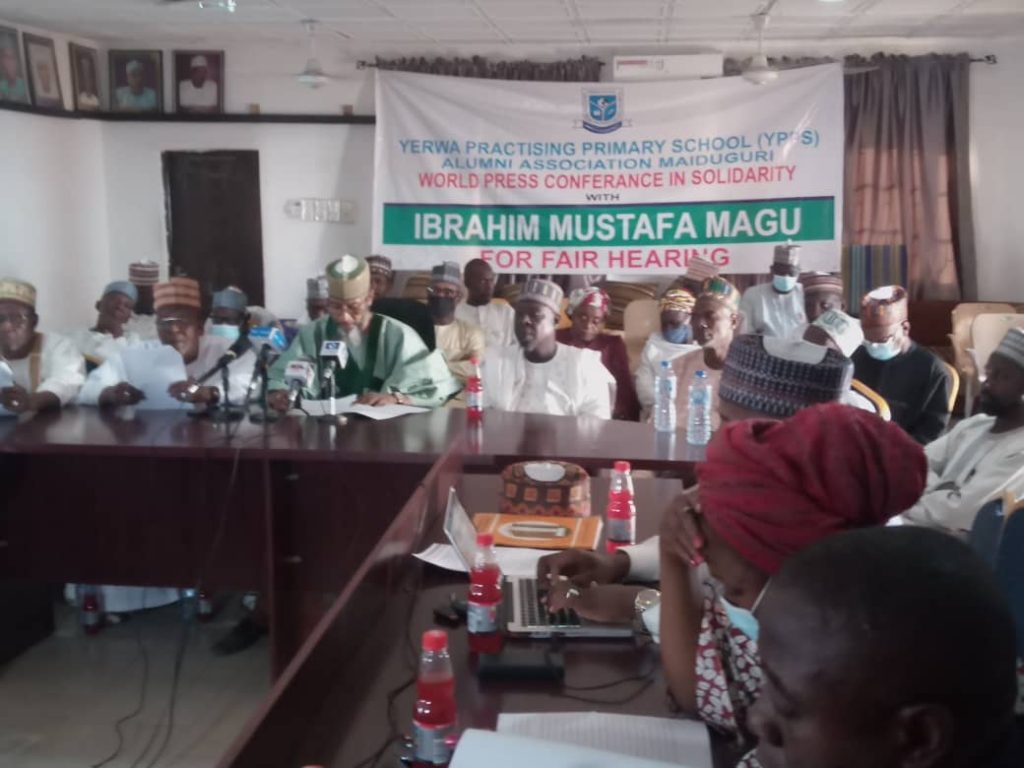 Yerwa Practice Alumni Seeks Release of Former EFCC Chairman, Ibrahim Magu
Urges President, State Govs for Stable Leadership
By Sadiq Abubakar
YERWA Practice Primary School Alumni Association (YPPAA) Maiduguri has urged President Buhari and the 36 State Governors to remain resolute and committed to continue to serve Nigerian citizens with passion to overcome the  incessant attacks, killings, kidnappings  and destruction across the country.
The Alumni also condoled President Buhari and State Governors over the persistent killing  of innocent citizens and  destruction of public and private property, while praying for the repose of those who lost their lives,   and God to give  the families and relations of the departed the fortitude to bear the loss.
The Spokesman of the Yerwa Practice Alumni , Alhaji Alhassan Sultan, while addressing journalists at a World Conference in Maiduguri Friday held at the NUJ Press Center, said that it was pertinent for the Alumni of Magu to express their  concern over the consistent attacks and allegations leveled  against one of its members, the former of Acting Chairman, EFCC, Ibrahim Magu .
He said," we believe that the objective of these allegations and other unsubstantiated claims are targeted at tarnishing his noble character and crucifying him. The same people were investigated by EFCC and as subordinates  are determined to see the downfall of Magu for undue reason.
"We are not in position to advance judgment on the face off between Magu and  his betrayers that culminated into his suspension.
"We are however confident and believe that Ibrahim Magu will be vindicated out of  the constituted Review Committee of Salami led Panel Report", Sultan said.
Sultan added that the Alumni Association decided to be silent since the inauguration of the panel set up to investigate the the alleged mismanagement of recovered assets, insubordination and abuse of office just to give the panel a grace of benefit of doubt.
"Because Magu isa man of repute and discipline  from  his primary school age throughout his secondary and tertiary institutions as a man of honour and dignity with excellent  track records of prudentially.
"Recent happenings during and after the proceedings have compelled the association to break the silence and demand for justice, equity and fairness in the entire  proceedings  with a view to coming out with unbiased and unselfish reports of investigation ", Sultan said.
According to him, the Alumni which comprised of colleagues, old school mates and classmates for decades decided to talk to the media on a serious basis on certain observations on the some human  rights of Magu  as a citizen in this country who deserves some rights and privileges.
The Spokesman noted also that it seems Magu was not given approximate atmosphere to defend himself although the report of the panel  was still being re investigated by the presidency.
He said without any doubt to the character of Professor Salami and his competence, accusing Magu of any  financial allegation will be  doubtful and harmful to a respected and intelligent professional financial crime expert like him who is respected  as a man of integrity world wide and acclaimed a financial crime expert by international community and organizations.
#