FLED Institute Honours Uganda Deputy Speaker & Others
FLED Institute Honours Uganda Deputy Speaker & Others
Public leadership is for public benefit. Those who have demonstrated outstanding leadership qualities and have excelled in public leadership ought to be recognized and encouraged to serve their people better. This is the inspiration that gave rise to the Award of Honourary Fellow in Public Leadership to the Ugandan Deputy Speaker of Parliament, Rt. Hon. Thomas Tayebwa, and other distinguished Africans by FLED International Leadership Institute, in Abuja recently.
The event, which was the 11th international Public Leadership Induction of the Institute, held at the Nigerian National Merit House, Maitama Abuja, Nigeria on February 14, 2023. It was indeed a moment of joy and conviviality as other distinguished individuals received Honourary Fellowship Awards, including Hon. Faoumatta Njai, the Parliamentarian representing Banjul South in the Gambian Parliament; Dr. Diana Atwine, Permanent Secretary, Ugandan Ministry of Health; and Dr. Mrs. Lydia Ngozi Chukwu, the Chief Nursing Officer at University of Abuja Teaching Hospital. 
The brief and lively event saw the induction of two other individuals as Associate Fellows: Prof. Dimoji-Okoro Chibuzo and Rvd. Fr. Ekhaisomi Oshiowekhai, while other qualified individuals were admitted as Certified and Associate Members into the Institute.
In his welcome remarks at the event, The President of FLED Institute, Rev. Dr. Joseph Ibekwe, informed that the purpose of the Leadership induction, through the Institute's Centre for Public Leadership, is to bring the inductees into a thriving ecosystem of learning leaders, as they become part of Africa's multi-disciplinary cream of professionals who are committed to implementing the principles of transformational leadership in their places of public leadership engagement. He charged the new inductees to see the induction as an opportunity to demonstrate higher leadership qualities in their places of public service.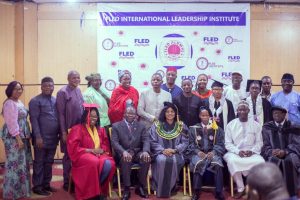 In his goodwill message, the former Head of Service of the Federation, Barr. Danladi Kifasi, CFR, Hfi, said, "I'm delighted that you have been considered worthy to be Inducted into Public Leadership at the prestigious FLED International Leadership Institute. Kifasi, who is also a Honourary Fellow of the Institute, further noted, "As a retired public servant and former Head of Service of the Federation, I knew how important it is to have quality leaders at all the strata of civil and public service. Unfortunately, there are no specialized leadership training opportunities available to civil servants to improve on their leadership competencies in addition to their administrative and managerial skills".
He urged the new inductees to commit themselves to constant improvement of their leadership competencies in order to offer better leadership in whatever place of public leadership they might find themselves.
In his acceptance speech, read on his behalf by Ambassador Alfred Nnam, Ugandan Deputy High Commissioner in Abuja, Rt. Hon. Tayebwa, expressed delight for the honour done to him, This award on bestowed on me is a sign of your confidence and trust in me of the qualities I gave exhibited over the years in the promotion of peace and democracy in my country Uganda, and internationally". He noted that the Award of Honourary Fellow in Public Leadership is an honour done bestowed on his country and the people and the Parliament of Uganda. He promised to continue work hard to promote the cause of peace and democracy to the people of Uganda and the world at large.
The Deputy High Commissioner, Amb. Nnam received the awards on behalf of the Deputy Speaker and Dr. Diana Atwine. On the other hand, Mr. Yahaya Samateh, Counsellor at the Gambian High Commission, Abuja received the Award on behalf of Hon. Njai.
FLED International Leadership Institute is a private professional leadership Think Tank and research Institution established in 1999 by the Incorporated Trustees of Foundation for Leadership & Education Development – FLED. The Institute is approved by Nigeria's federal Ministry of Education to offer leadership capacity building, Induction of qualified individuals into Public leadership, public education and research on social, economic and political issues in Africa.
For more information about FLED Leadership Induction, please visit
#
About Author