Hon. Chinedu launches Constituency Mobile Clinics in Mbaise, Imo State
The Honorable member representing Ahiazu/Ezinihitte Federal Constituency in the National Assembly, Emeka Martins Chinedu, is set to commission Constituency Mobile Clinics  in his Constituency on Monday December 21, 2020.
In a statement singed by his SA on Media & Publicity, Nnamdi Ukasanya, this comes as a fulfillment of his campaign promise to establish two Mobile Clinics in his Constituency.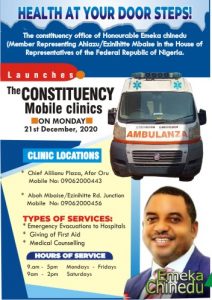 The two Mobile Clinics are to be stationed at two strategic locations for easy access.
The first Mobile Clinic is stationed at Chief Alilionu Plaza, Afor Oru. Residents of Ahiazu Mbaise Local Government Area could call this number for counselling or any medical emergencies – 09062000443.
The second Mobile Clinic, stationed at Aboh Mbaise/Exinihitte Junction, will serve residents of Ezinihitte Mbaise Local Government who can call this number – 09062000456 – for any medical emergencies.
The Mobile Clinics will operate from 9:00am to 5:00pm, Mondays through Friday, and 9:00am to 2:00pm on Saturdays.
The Mobile Clinic crew will be able during those hours to render Emergency evacuation of Patients to Hospitals; Administer First Aide to the Sick and the Injured; and offer Medical Counselling services to the public.
Affirming to the operations of the Clinics, Hon. Emeka Chinedu said: "If you are sick, dial the digits attached to the Mobile Clinic and it would be driven straight to your house for immediate First Aide or evacuation to Hospital, in the case of emergency".
#
About Author