FLED Graduate Leadership Program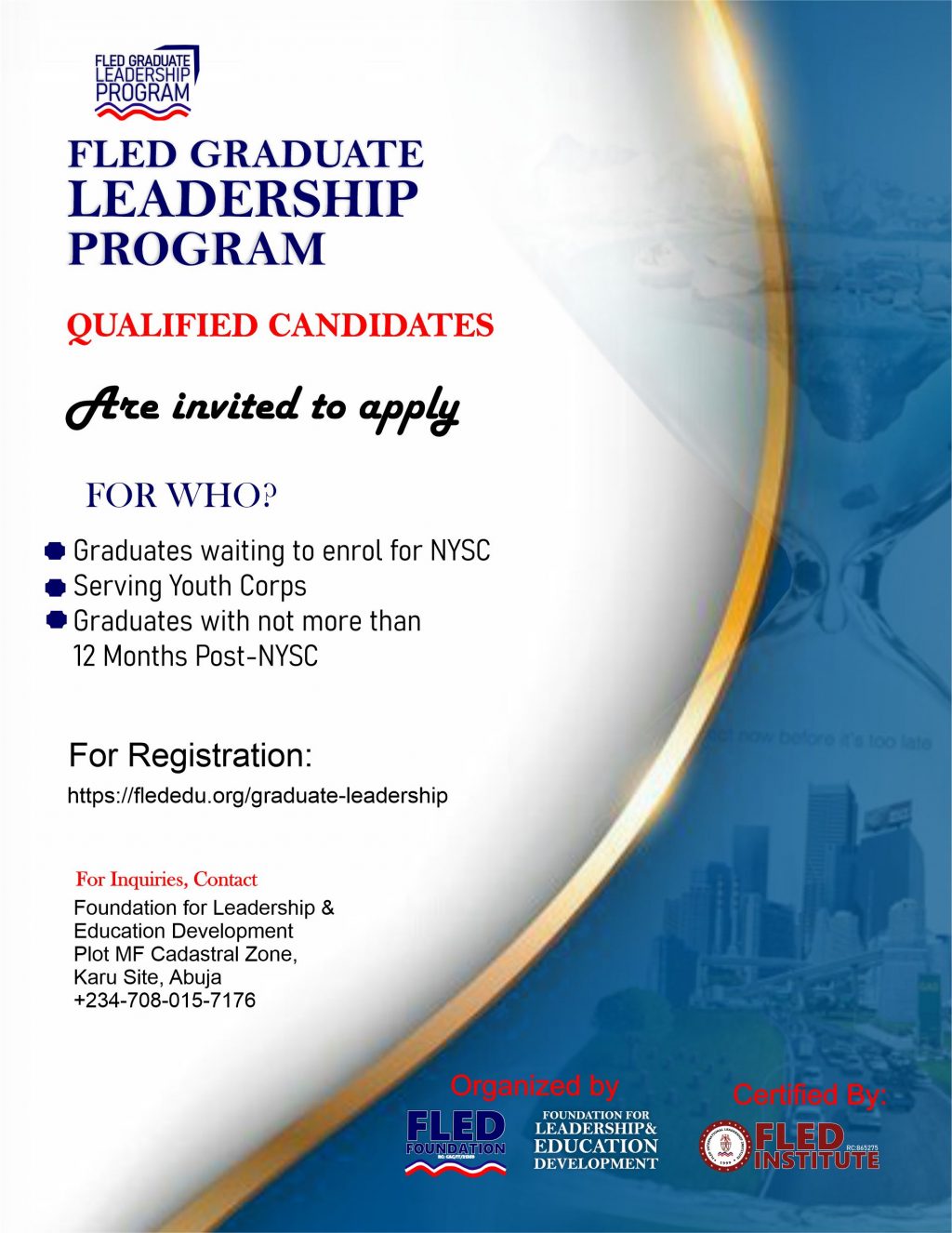 FLED GRADUATE LEADERSHIP PROGRAM
Foundation for Leadership & Education Development in collaboration with FLED International Leadership Institute announces the 2023/2024 Graduate Leadership Program.
🌱 It is common knowledge that many youths are graduating from tertiary institutions today with expectations that cannot be fulfilled.
🌱 They face exceptionally uncertain future either due to inadequate education or inappropriate education.
🌱 These young graduates, pushed to frustration, are increasingly engaged in bahaviours of faced with conditions which jeopardize their lives and prospectives for independent productive lives.
🌱 Also, young graduates often lack the soft skills and the adult connection they require for support and guidance as they enter the world of work.The situation is precarious.
🔑 It is against the is background that Foundation for Leadership & Education Development announces to commencement of 2023/2024 FLED Graduate Leadership Program – FGLP.
It is a specialized capacity enhancement program designed to impart pre-determined outcomes on the lives of participants over a period of the program.
✍️ Who is Qualified to Apply?
🎯 Graduates waiting to enrol for NYSC
🎯 Serving Youth Corpers
🎯 Graduates with not more than 12 months post-NYSC.
🗣️ Application Deadline : July 31,2023
FLED – Foundation for Leadership & Education Development is an NGO established in 1995 and committed to the human capital development of women and youths through leadership training, economic empowerment, public education and advocacy.
# _Share to those that might be interested_ .
About Author