Lady Captain's Golf Tourney  Debuts at Parkland
The newly elected Lady Captain of Parkland Golf Resort Club, Abuja, Lizzy Ulunma Asomugha, is set to host the "Lady Captain's Inaugural Tourney" .
The event is scheduled for Saturday November 7, 2020 at the Parkland Golf Resort, Arochukwu Street, Area 11, Abuja. The Tee Off is at 6: 30 am.
Commenting about the tournament, Lady Asomugha, said her aim for hosting the event is 'to contribute to the development of golfers who are training to become professionals'.
She also want to use  the event to encourage golfers to maintain good health through a combination of regular exercise at the Club gym with attendant health practitioner, healthy food and drinks from the restaurant, regular golfing as well as interaction among members for business and social benefits.
Though it is not a professional tournament because Parkland is only a Par3 golf club, several golfers from around the country are expected at this inaugural event.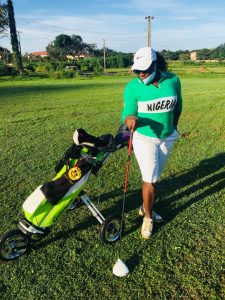 Parkland Golf Resort Club is a Government designated centre for the promotion of grassroots golfing among school-aged children to groom them for future professional golfing.
The tournament will hold with full observance of COVID-19 protocols as applicable in international golfing rules.
About Author