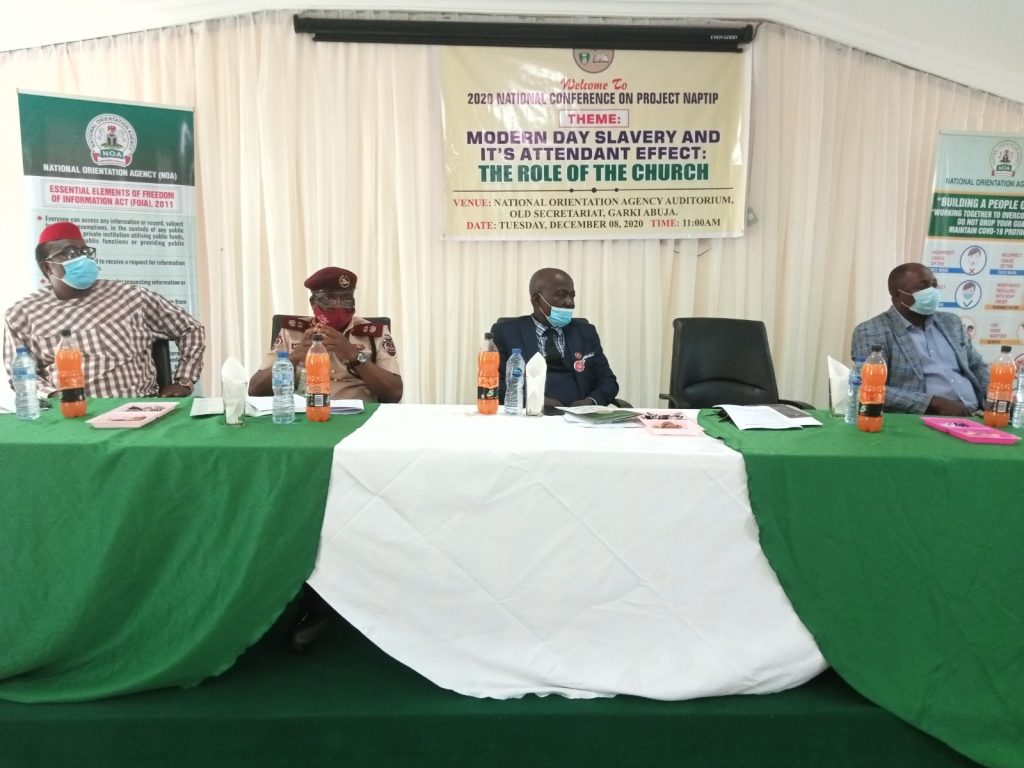 NAPTIP Collaborates with Church Management Support Ministry to combat Human Trafficking
The National Agency for Prohibition of Trafficking in Persons (NAPTIP) and Church Management Support Ministry (CMSM) has launched a nation-wide collaboration to combat human trafficking in Nigeria. This was made public on Tuesday at the 2020 National Conference of the Ministry held in Abuja.
Welcoming stakeholders at the conference with the theme "Modern Day Slavery and its attendant effect: the role of the church", Dr. Kayode Nissi, President of CMSM, noted that the ministry works in promoting national attitudinal rebuilding project for the youths and the workplace through godly virtues. It is on this basis that the Ministry signed a two-year Memorandum of Understanding –MoU- with NAPTIP work in reducing the incidences of human trafficking in Nigeria.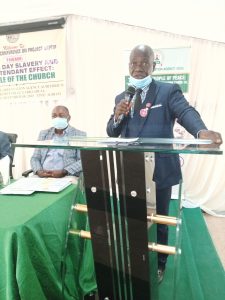 Flagging off the collaboration, Honourable Minister of Humanitarian Affairs, Disaster Mnangement & Social Development, Hajia Umar Farouq, represented by Mr. Adekoye Vincent who also represented the D-G, NAPTP, expressed happiness with this initiative coming from a religious organization, to help curb the issue of human trafficking in the country.
Speaking further, Mr. Adekoye said that NAPTIP sees the launch of the collaboration with CMSM as a strategic move to deal with not only human trafficking but also promoting attitudinal change and rehabilitation of victims of human trafficking.
Earlier in opening remarks at the event, Major General Olufemi Adeosun, Rtd, noted that the issue of human trafficking and slavery has gone far beyond what it used to be centuries ago. The modern day slavery, he said, is not just about selling people into labour, but now involves organ harvesting, where victims are killed and their organs are harvested sold off to buyers.
While saying that it was wrong for people to allow themselves to be deceived in traveling abroad for greener pastures, he charged that we need to make our economy conducive to discourage people from traveling abroad and being turned into slaves or have their organs harvested.
The 72-page strategic project implementation plan was presented by Mr. Peter Adebayo, while Dr. Boboye Oyeyemi, Corps Marshall of the Federal Road Safety Corps, represented by Corps Commander Iyamah Sunday, unveiled the CMSM/NAPTIP project document.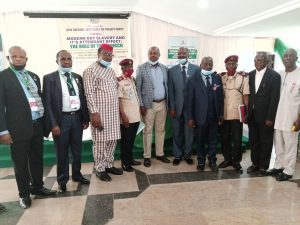 Highlight of the stakeholders' conference was the inauguration of Children Education Adoption Foundation by Arch Bishop Sir. Dr. Solomon Winning Uchenna, represented by Apostle Mike.
Church Management Support Ministry also works to sup[port the Christian Association of Nigeria (CAN) through the enhancement of its Administrative effectiveness.
#
About Author