Hon. Chinedu's Constituency Score Card
Hon. Emeka Martins  Chinedu presents Legislative Score card to His Constituency: Ahiazu/Ezinihitte Mbaise Federal Constituency, Imo State
The functions of a legislator is simple, but two fold: make laws and provide oversight on the consecutive arm of government. In advanced democracies, the performance of legislators is measured on the basis of this two-pronged functions. However, in emerging democracies, such as Nigeria, an added burden is placed on legislators because their constituents expect them to do more than law making and over-sighting.
They expect them to implement specific physical projects within their constituencies to justice their effectiveness. This is what gave rise to the concept of Constituency Projects in Nigeria's democratic practice. Beyond these critical functions, the hallmark of legislative responsibility is the ability of a legislator to maintain continuing relationship  with the constituents and his readiness to give account of his/her legislative activities to the constituents. This is the difference between legislators that represent themselves and those that actually represents the people – the constituents.
It is against this act of responsibility that Hon. Emeka Martins Chinedu, representing Ahiazu/Ezinihitte Mbaise Federal Constituency, Imo State at the National Assembly presented his 18 months legislative scorecard to his constituents recently.
It was a moment of stock-taking, questioning, explaining and appreciation from the constituency as constituent members in attendance commended the efforts of Hon. Hon. Chinedu. On the issue of Motions and Bills, the Hon. Chinedu has the following to his credit:
A Bill for an Act for the Establishment of Federal Facilities Management Agency – sponsored to strengthen our resolve for maintenance culture to force a systemic departure from the nationwide negligence of National assets that leads to infrastructural decay.
A Motion on the need for Abolition of Acceptance Fee in Nigeria's Tertiary Institutions – sponsored to lessen financial burden on parents and students of Tertiary Institutions across the federation. The motion earned him the unofficial national tittle of "Voice Of The Voiceless" by Law Students the Association of Nigeria (LAWSAN) who sent official commendation Letter in appreciation of his meritorious and selfless service to fatherland and love for Education.
A Motion on the need to Equip All Medical Centres Across the Federation with Modern Laboratories and Diagnostic Equipment – sponsored in line with his passion for human health, and establishment of international best practices with corresponding modern Equipment.
A Motion on the need for Government Intervention in Erosion Menace, Ravaging AHIAZU/EZINIHITTE FEDERAL CONSTITUENCY, especially Egbere-immiri Eziudo, Oboama and environs – sponsored to draw the attention of the Federal Government and Ecological Fund Office to come to the aid of the people of Ahiazu/Ezinihitte Federal Constituency.
A Motion on the need to Curb the Rising Incidences of Building Collapse Across the Federation – sponsored to urge the Federal Ministry of Environment and Standard Organization Of Nigeria(SON), to implement the National Building Code, and  sensitize Nigerians in order to curb incessant building collapse that often lead to loss of human lives.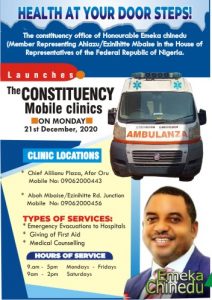 A Motion on the need to curb the Consumption of Alcohol by under-aged Youths in Nigeria – sponsored to curb the disturbing trend of Youths' reckless alcohol intake, which has damaging effect on human physical health, brain development, and disorganization of their behavioral patterns.
Emeka Chinedu was among the Federal Lawmakers that called on the Federal Government to include South East in the borrowing plan that excluded South east in the first place.  He also recently proposed a Motion on the urgent need to put a stop to arbitrary increase in Transportation fares during Festive Periods in Nigeria with special reference to Land Transport.
In a statement signed by Nnamdi Ukasanya, S.A Media and Publicity,Hon. Emeka Chinedu is quoted to have made the following interventions in the area of constituency projects:
The construction of 1000 sitting capacity multipurpose Auditorium in St. Dominic's Umueleagwa Onicha, Ezinihitte LGA. The renovation of abandoned Health Center, in Ogbe Ahiara, Ahiazu LGA, and the Okirika Nwaeke Health Center, in Ahiazu LGA.
The construction of three Class Room Blocks each at Obizi High School, Obizi Ezinihitte LGA;  Oboama Secondary School, Oboama, Ezinihitte LGA; in Unity Primary School, Ihitte Ezinihitte LGA; in Mbaise Girls, Onicha, Ezinihitte LGA; at Oru na Lude, Ahiazu LGA; and in Oparanadim, Ahiazu LGA.
The construction of Solar Powered Borehole with 6,000 Liters Capacity overhead Tank, in Oparanadim, Ahiazu LGA, and in Amumara, Ezinihitte LGA.
The construction of Skills Acquisition Centres in Okpofe, Ezinihitte LGA and in Ahiazu LGA.
The installation of Solar Powered Street Lights in and around Aboh Junction, at Afor Oru Market, Ahiazu LGA and Nkwo Mbaise Market,Ezinihitte LGA with additional modern Public Toilets facilities.
The commencement of Erosion control in Umunaga, Itu, Ezinihite LGA.
He also initiated the ongoing renovation of Town Hall/Civic Center at Umuosanyi Umuaghara, Ogbe Community in Ahiazu Mbaise.
Recently, Hon. Chinedu launched and deployed Mobile Clinics with qualified medical practitioners to provide the First Aid to the Sick; evacuate sick persons to the hospitals in case of emergency, and to offer Medical Counseling service to the people.
In the area of training and youth empowerment, Hon. Chinedu facilitated the training of over 30 youths through a Federal Government sponsored Skills Acquisition Programme in December of 2019, where participants got different kind of starters pack at the end of a programme that lasted for two months in Owerri, the Imo State Capital.
Also, youths in Ahiazu/Ezinihite were trained on fish Value Chain Aquaculture with start-up capital of no less than N30,000 (thirty thousand naira) each at the end of programmes.
On a personal basis, he donated the sum of N500,000 to help energize Electricity Transformer, in Ogbe Ahiara, Ahiazu LGA, as well as donated brand new Electricity Transformers to the Nnamere Mpam Autonomous Community,  Ahiazu LGA; Amaukwu, Amagbo, Ihitte Autonomous Community, Ezinihitte LGA, and Omukwu, in Onicha, Ezinihitte LGA.
He ordered the distribution of customized Hand Sanitizers worth Millions of Naira as safety measure against the novel Covid-19 pandemic, in March, 2020.
He made financial donation in support of Ahiara Diocesan Food drive with the view to cushioning the effect of Covid-19 pandemic/Lockdown on the poor, the needy and the less privileged. He also donated food packs (Rice, Beans, Garri, Indomie Noddles and Tomatoes) worth millions of Naira,  to help in cushioning the excruciating effect of Covid-19 influenced Lockdown on the poor, the needy and the less privileged in the Federal Constituency, which was distributed through traditional rulers of the 42 Autonomous Communities in the Consistency and PDP leaders in April , 2020.
During 2020 Christmas season, he made personal donation  of a Million Naira to PDP Ahiazu LGA, tand One  million Naira donation to  PDP Ezinihitte.
In all of these, the representation of Hon. Emeka Chinedu can be described as eventful, engaging and transparent. His constituents believes he has accomplished so much in so short a time, in spite of the covid-19 pandemic that challenged the country this year and adversely affected Federal budgets.
His stewardship report has received endorsement from notable sons and daughters of Mbaise, including Barr. Alex Nnanna Williams, Air Cmdr. Luke Ochulor (Rtd), Mr. Frank Nneji (ABC Transport), and the  Aladimmas in Ezinihitte.
Hon. Emeka Chinedu has demonstrated legislative capacity and humaneness in his attitude to public service. His people-focused legislative approached is further demonstrate by his open door policy in the National Assembly, which makes it possible for every visiting constituent to gets equal attention, irrespective of status or Party leaning.
Essentially, Hon. Chinedu has raised the bars of legislative stewardship in Ahiazu/Ezinihitte  Federal Constituency. In the words of Chinese Philosopher, Lao Tzu, "A leader is best, when people barely know he exists, when his work is done, his aim is fulfilled, they will say: we did it ourselves".
Hon. Chinedu is gradually redefining the idea of 'dividends of democracy' as he has succeeded in bringing them to practical reality, yet there is still so much to be accomplished. It is hoped that the coming legislative years will bring out much more from him.
#
About Author